A damaged cylinder head must be repaired by following a process that must be cost effective in comparison with a brand new replacement. In order to do so, this type of repair must be done by fully trained technicians working within a controlled environment.
This means making sure of the materials compatibility between the welds and the cast iron. Also, a perfect knowledge of materials insures that the preheating and the post cooling are done taking in account the different reactions of all types of metals involved.
Our repairs are done by using the cast iron stick process. This is a fusion process in which the cast iron is preheated and kept at a stable temperature until the repair completion.
This amalgamation of the metals is followed by a precision machining that will bring the part up to the original manufacture specifications.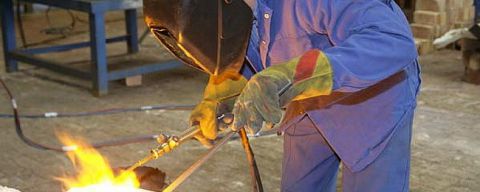 All parts will undertake a pressure test as well as tests for finding any cracks and fissures after the final machining.
This retrofit includes all accessories such as: Valve seats, Inserts, Bolts and Base plates. These parts can be either supplied by our customers or provided by us.
Cylinder heads for basically almost all engine types can be retrofitted back to their original specifications and are covered by our standard warranty.
Our customers are provided with a complete and detailed report on our actions to bring the part back to working condition.
On demand, we can provide you with metallurgical analysis certificates and pressure test results. Our processes are regulated and approved by LLOYDS.